The 4VOO Confidence Corrector  Concealer gives you extra confidence, right when you need it most!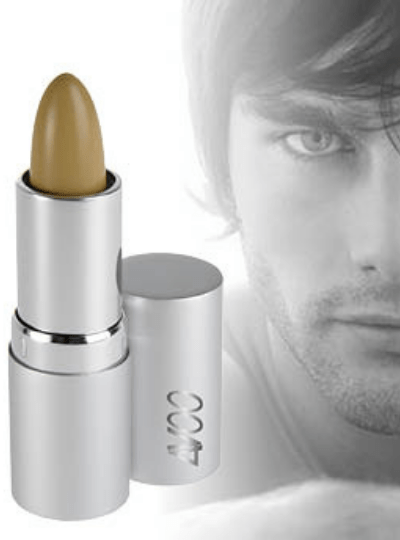 4VOO Confidence Corrector Concealer | Benefits
Using a 4VOO Confidence Corrector, or concealer, is a new experience for most men, but once you've used it you'll never be without one. Concealers are used to hide blemishes, discoloration, tattoos, and other marks that you are uncomfortable with, anywhere on your body. Correctors may also be used to add color to your complexion to give you a natural vibrant appearance.
4VOO confidence correctors come in four different colors and may be blended to match most skin tones. 4VOO confidence correctors also contain UVA/UVB sunscreen.
This men's cosmetic / men's makeup product contains 10 botanical extracts, essential oils, vitamins, minerals, and substances derived from natural sources.
Directions
The first time men may use a 4VOO confidence corrector they are so pleased by the results that they make it a regular step in their skin care regime.
If applying confidence corrector to your face, complete your skin care regime first
Using the confidence corrector color closest to your complexion, rub the stick over the area you wish to cover
Using your finger or a makeup sponge, gently blend the corrector into the surrounding skin – start with a small amount and continue to layer until the desired result is obtained
For optimum skin color match, it is common to purchase two or more colors to mix for the desired result.
Now you just have to learn not to blush when people tell you how good you look!
Follow these tips from professional make up artist Nathan Johnson, an endorser and big fan of 4VOO products.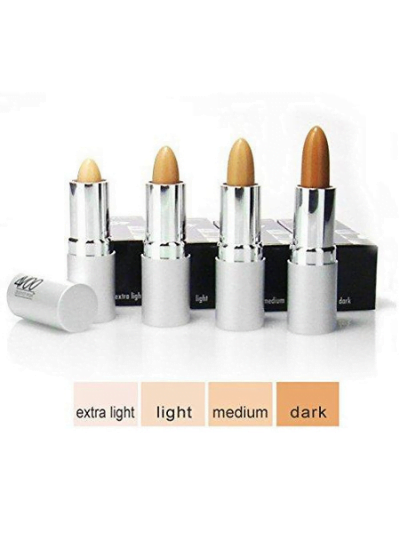 Step One: Pick a Suitable Shade.
There are four shades available for this product and they range from extra light to dark shades for each skin tone. You can mix two shades to get your signature shade. The shade type used depends on the imperfections you wish to correct.
For Under-Eye Circles: Select a shade that is half to a full shade lighter than your skin tone. This will block out the discoloration and make your skin tone look perfect.
For Pimples, Scars, Redness Around the Nose, Freckles, Uneven or Ruddy Patches, and Broken Blood Vessels: Select a shade of this product that is like your skin tone. These discolorations can easily be covered and neutralized.
For Under-Eye Bags and Face Puffiness: Choose a shade that is one full shade lighter than your complexion. This will aid in proper highlighting and counteracting the shadow created by the bag.
For Unwanted Birthmarks and Tattoos: Select a shade that is remarkably close to your complexion. You can use several layers to hide and conceal the area.
For Darker Blemishes: Choose a half lighter shade than your complexion. This will cover the discoloration and perfectly match the skin.
Step Two: Application Tips and Tricks.
General Use: Using the correct shade, apply the stick over the desired area of coverage. Use your fingertips to gently blend and massage the product into the nearby skin. Begin with a small amount and continue layering the product on until you see the result you desire.
Ensure you have two different shades of the 4VOO Confidence Corrector in your house. One should match your skin tone when you're tanned and the other should be for your regular skin tone. You can blend the two products to achieve your signature shade.
Apply the 4VOO Maximum Renewal Moisturizer or 4VOO Rejuvenating Under-Eye Gel before the application of the 4VOO Confidence Corrector. If you apply on completely dry skin, this product will leave the skin looking cakey or mask-like.
Only use the corrector on the problem areas. Applying too much product or dragging it too far above or below the problem area can make the product not appear effective.
Use only sheer layers for this product. If you lay it on too thickly, it might appear unnatural. If you accidentally apply too much of this product, use a tissue to blot it and remove the excess.
If you can't achieve total coverage, that's fine too. The main aim of the product is to remove emphasis or conceal the spots. If you overcorrect, you risk drawing more attention to yourself.
4VOO Confidence Corrector Concealer | Best practices
This product gives the best results after use if the 4VOO Shine Reduction Powder is applied on top of it. This will lock in the corrector, prevent it from melting or moving. This will also aid it to stay on for a longer period of time.
4VOO Confidence Corrector Concealer | Key ingredients
Palmitate or Vitamin C: This is a non-acidic and stable form of Vitamin C. It is an incredible antioxidant.
Retinyl Palmitate or Vitamin A: This positively affects skin cell production by binding itself to the tretinoin receptor sites present on the cells.
Tocopherol or Vitamin E: This eliminates free radicals present in the body, thereby reducing the risk of damages that can be caused by them. Research studies have shown that it can slow down the aging process.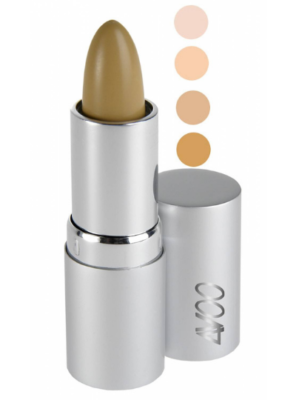 INGREDIENTS LIST
Ingredients | 4VOO Confidence Corrector Concealer
---
octyl palmitate, caprylic/capric trigliceride, cetly dimethicone, silica beeswax, octyl methoxycinnamate, nylon-12, candelilla wax, octyl salicylate, octyl dodecanol, ozokerite, shea butter, tocopherol acetate (vitamin E), ascorbyl palmitate (vitamin C), retinyl palmitate (vitamin A)
Treat yourself to the luxury that you and your skin deserve.