4VOO Deep Exfoliation Scrub for men
4VOO Deep Exfoliation Scrub is a highly effective and selectively aggressive cleansing scrub that combines spherical mineral particles with plant and marine extracts to remove excess oil, environmental contaminates, and dead cells without damaging sensitive new skin.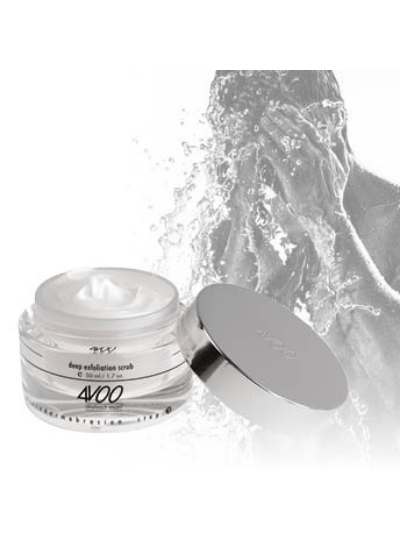 Benefits of the 4VOO Deep Exfoliation Scrub
4VOO deep exfoliation scrub is highly effective and selectively aggressive, as it works on your skin as a physical peel. Like a microdermabrasion treatment, it uses spherical crystals to exfoliate the skin.
2 sizes of these spherical crystals are used;
the larger crystals are what you can feel on your fingertips as you apply the scrub, and they gently whisk away dead skin cells, making skin smoother
the smaller crystals work at a deeper level, removing the skin cells, dirt and bacteria that clog pores and cause blackheads and blemishes
The exfoliating crystals used in 4VOO deep exfoliation scrub make it superior to other men's skin care products on the market.
The crystals in deep exfoliation scrub:
are aluminum oxide– the same compound used by dermatologists when providing an in-office microdermabrasion treatment
are perfectly spherical, providing an effective, but gentle exfoliation process – unlike other scrub particles, which are mechanically crushed and have rough, jagged edges
In addition, deep exfoliation scrub contains plant and marine extracts, which remove excess oil and environmental contaminants, and soothing extracts like chamomile and cucumber that soothe and pamper the skin. Dead cells are whisked away without causing damage.
This exclusive formula is expertly designed to mimic the effects of a microdermabrasion treatment, with countless benefits to your skin:
accelerates natural exfoliation process, stimulating skin renewal, leaving you with smoother, softer, revitalized skin
reduces visible signs of aging, leaving you with rejuvenated, younger looking, radiant complexion
4VOO deep exfoliation scrub is part one of our two-part rejuvenating micro-miracle duo skin treatment and is specifically designed to work together with our 4VOO energizing mask to transform your skin, giving you the smoother, softer, radiant skin everyone will notice.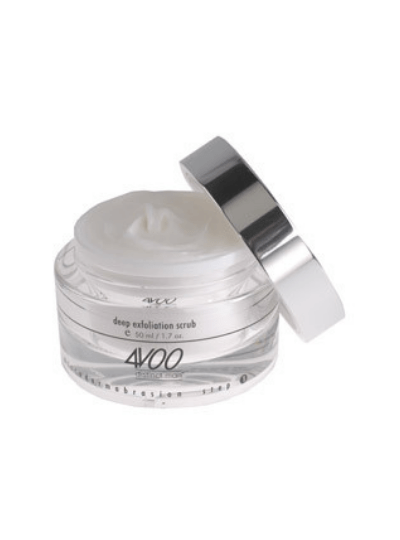 Application guidelines
It's necessary to deep cleanse and polish your skin to assist the natural renewal process. 4VOO Deep Exfoliating scrub should be used once a week for dry skin, twice for normal skin, and three times for oily skin. Our scrub is selectively aggressive (microdermabrasive) and we recommend that you be gentle when using it until you become familiar with the results.
Cleanse your face with 4VOO Facial Balancing Cleanser, rinse thoroughly, but do not dry
Using one or two pea-sized dabs ofdeep exfoliation scrub, rub it gently onto both hands, and massage the scrub onto your face using a gentle circular motion – you will feel the mineral particles removing dead skin cells, oil, and environmental contaminates
Massage for a few minutes and then rinse thoroughly with tepid water
We highly recommend after using 4VOO deep exfoliating scrub you then apply our 4VOO energizing mask as step two of 4VOO's mirco-miracle duo.
INGREDIENTS LIST (folds out)
Ingredients | 4VOO Deep Exfoliating Scrub
Aqua, Saccharum Officinarum (Sugar Cane) Extract, Vaccinium Myrtillus (Bilberry) Fruit/Leaf Extract, Citrus Aurantium Dulcis (Orange) Fruit Extract, Acer Saccharum (Sugar Maple) Extract, Citrus Medica Limonum (Lemon) Fruit Extract, Hydroxyethyl Acrylate/Sodium Aryloyldimethyltaurate Copolymer, Isohexadecane, Polysorbate 60, Polyethylene, Zink Oxide, Glyceryl Stearate, Octyldodecanol,
Isopropyl Palmitate, Isopropyl Myristate, Peg-20 Glyceryl Stearate, Ceteareth-12, Cetyl Palmitate, Glyceryl Cocoate, Cetearyl Alcohol, Sorbitan Stearate, Propylene Glycol, Propylene Glycol, Hydrolyzed Silk, Algae Extract, Betula Alba Bark Extract (Birch), Equisetum Hiemale Extract (Horsetail), Cymbopogon Schoenanthus Extract (Lemongrass), Prunus Serotina Bark Extract (Wild Cherry), Eugenia Caryophyllus Extract (Clove), Aloe Barbadensis (Aloe Vera), Tocopherol, Dimethicone PEG-7 Phosphate, Caprylic/Capric Triglyceride, Glyceryl Tricaproate, Polysorbate 20, Ethylhexylglycerin, Phenoxyethanol, Fragrance
4VOO

| Treat yourself to the luxury you deserve…