Men's Grooming Award: Best Anti-Aging Treatment
4VOO Maximum Renewal Moisturiser

| Benefits
4VOO Maximum Renewal Moisturiser is a luxurious, highly effective product specifically formulated to make a man's skin look smooth, vibrant, and fresh, without leaving an oily film. Maximum renewal moisturiser rejuvenates tired and stressed skin by assisting the natural renewal process, protects against harmful environmental influences, and reduces visible signs of aging.
This product's exclusive formula contains a revolutionary multi-peptide blend. Peptides are manmade proteins that stimulate collagen production and stimulate the synthesis of other important compounds in the skin.
4VOO maximum renewal moisturiser also contains many botanical extracts, vitamins, minerals derived from natural sources. Working with 4VOO's exclusive multi-peptide formula, are these ingredients:
reverse the aging process by stimulating natural biological processes
regenerate the upper layers of the skin, significantly reduce the appearance of wrinkles
work gently to create smoother, softer skin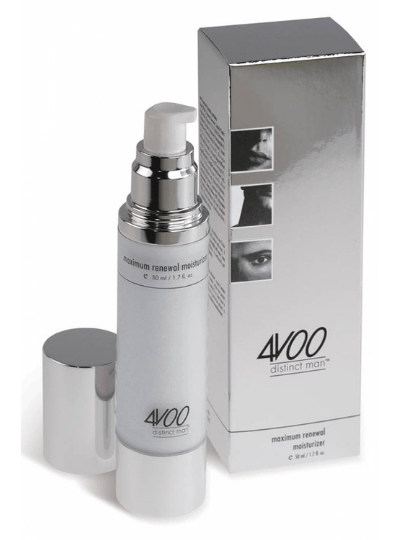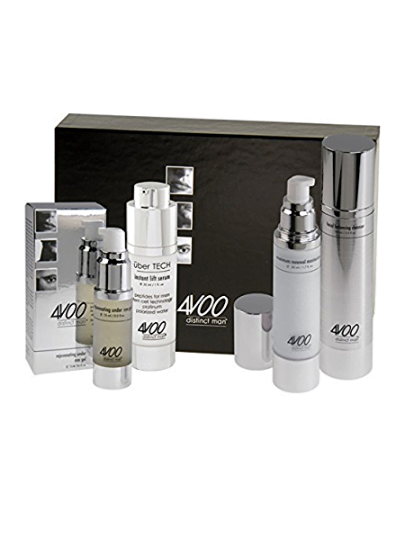 4VOO Maximum Renewal Moisturiser

| Application guidelines
The tendency is to apply more moisturiser than you need – you require only a light even film on your skin. More is not better when using 4VOO premium luxury men's products.
You'll have to experiment to determine what is right for your particular skin type. Dry skin will require more moisturiser and oily skin will require less.
Temperature and humidity will also affect how much moisturiser you require. Hot humid weather will require that you use less moisturiser, and cold dry weather will require that you use more.
one method of application is to place small dabs of 4VOO maximum renewal moisturiser onto your forehead, cheekbones, chin, and neck; then gently smooth the moisturiser over your face trying not to pull your skin in the process – try to work from the outside of your face towards the center; gravity is constantly pulling our skin down, and it helps to apply skin care products in the opposite direction
a second method of application is to place a pea-sized amount ofmaximum renewal moisturiser into the palm of one hand, rub your hands together lightly to activate the ingredients, and gently smooth the moisturiser onto your entire face
Some men apply 4VOO maximum renewal moisturiser over our repairing after shave balm. This will create a heavier protective film that may be desired when conditions are dry. Experiment to find out what works best for your skin type. Both products have been formulated to be highly effective on their own or work synergistically together.
Before retiring we recommend that you cleanse your face with 4VOO facial balancing cleanser and reapply maximum renewal moisturiser. It's while you sleep that your skin repairs and rejuvenates itself. 4VOO maximum renewal moisturiser assists in the renewal process allowing you to obtain maximum results, and look your best.
4VOO Maximum Renewal Moisturiser

| Key ingredients
The benefits of our ingredients to you are:
hyaluronic acid – component of skin tissue that is used in skin care products as an excellent water-binding agent
multi-peptides – improve the appearance of wrinkles (research shows it to be more effective than retinol or vitamin C in skin care products)
niacinamide (vitamin B3) – increases ceramide and free fatty acid levels in skin and prevents skin from losing water content
retinyl palmitate (vitamin A) – positively affects cell production by binding to the tretinoin receptor sites on the cell
tocopherol (vitamin E) – protects cells against free-radical damage; an abundant assortment of researchers have theorized that this can slow the aging process
silk – the most treasured natural fiber – what makes silk unique is its ability to hold and release moisture depending on the temperature and humidity of the surroundings; the main component of natural silk is fibroin, an amphoteric colloid protein; silk powder is rich in silk amino acids, including alanine, glycine and serine, which are the building blocks of protein in the skin and are regarded as a part of the natural moisturizing factor; silk also contains natural sun protection and anti-inflammation qualities – these effectively help sun-damaged skin, acne and other skin problems
japanese green tea extract – antioxidant, anti-inflammatory, anti-carcinogenic; studies conducted on human skin have demonstrated that green tea polyphenols (gtp) prevent ultraviolet (uvb) induced immune suppression and skin cancer induction
grape seed extract – contains proanthocyanidins, which are considered to be very potent antioxidants, helpful for diminishing the sun's damaging effects and lessening free-radical damage; also shown to have wound-healing properties
algae extract – a skin care ingredient used as water-binding agents and antioxidants; algae contain proteins, vitamin A, sugar, starch, vitamin B1, iron, sodium, phosphorus, magnesium, copper, and calcium; it helps restore skin's moisture to improve elasticity; algae is a thickening agent
INGREDIENTS LIST
Ingredients | 4VOO Maximum Renewal Moisturiser
---
Aqua, Hydroxyethyl Acrylate/Sodium Acryloyldimethyltaurate Copolymer, Isohexadecane, Polysorbate 60, Dextran, Carprooyl Tetrapeptide-3, Hydrolyzed Silk, Alchemilla Vulgaris (Lady's Mantle) Extract, Zizyphus Jujuba (Jujube) Fruit Extract, Thymus Serpillum (Thyme) Extract, Lecithin, Tilia Cordata (Linden) Wood Extract, Cupressus Sempervirens (Cypress) Seed Extract, Aesculus Hippocastanum
(Horse Chestnut) Seed Extract, Tocopherol, Leucojum Aestivum (Snowflake) Bulb Extract, Narcissus Tazetta (Daffodil) Bulb Extract, Algae Extract, Betula Alba (Birch) Bark Extract, Aloe Barbadensis (Aloe Vera), Propylene Glycol, Algae Extract, Hydrolyzed Hyaluronic Acid, Glyceryl Stearate, Octyldo- decanol, Isopropyl Palmitate, Isopropyl Myristate, Peg-20 Glyceryl Stearate, Ceteareth-12, Cetyl Palmitate, Glyceryl Cocoate Cetearyl Alcohol, Sorbitan Stearate, Polysorbate 20, Caprylic/ Capric Triglyceride, PPG-3 Benzyl Ether Myristate, Glycerin, Ethylhexylglycerin, Phenoxyethanol, Fragrance
4VOO

| Treat yourself to the luxury you deserve…