"The best after shave" – Instinct Magazine Grooming Award Winner
4VOO Repairing After Shave Balm

| Benefits 
4VOO repairing after shave balm is a luxurious mens skin care product that calms, soothes and moisturizes. It's specifically formulated to relieve and protect skin from irritations that occur from shaving, and reduce annoying in-grown hairs. This award-winning product contains ingredients that target the root of the hair, giving you remarkable results:
hair growth is significantly decreased
need to shave dramatically reduced
4VOO repairing aftershave balm has a unique peptide formulation that works to protect your skin from the harshness of shaving:
prevents unpleasant sensation after shaving
reduces ingrown hairs
prevents formation of expression lines and wrinkles (anti-aging effect)
4VOO repairing after shave is light and fast absorbing. a distinct man must confront many irritations in his busy life; 4VOO repairing after shave balm ensures shaving isn't one of them.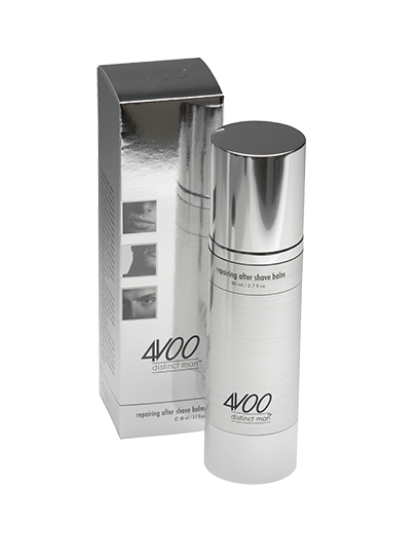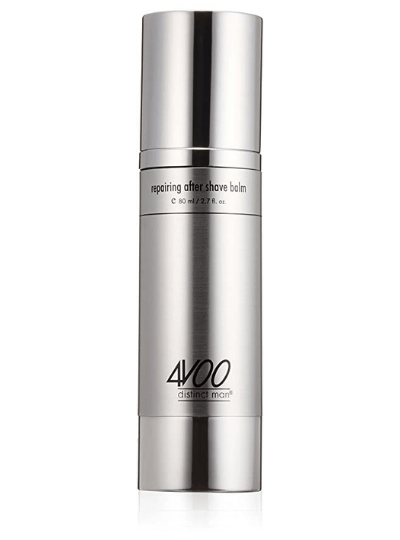 4VOO Repairing After Shave Balm

| Application guidelines
For best results, we recommend:
first, shave with 4VOO ultimate shaving cream, and then cleanse with 4VOO facial balancing cleanser to remove any residue left from shaving cream
pat face dry with a clean towel, do not rub skin with the towel as freshly shaven skin is at its most vulnerable
apply a thin layer ofrepairing after shave balm to areas that have been shaved – 4VOO repairing after shave balm is light and fast absorbing so no need to worry about stickiness!
This product is formulated to reduce ingrown hairs, moisturize, rejuvenate, and sooth any irritations that may occur from shaving and continues to work long after application.
For optimal results, we recommend using 4VOO maximum renewal moisturizer or 4VOO ultra intensive age-defying complex to compliment 4VOO after shave balm and further enhance the benefits to your skin.
4VOO Repairing After Shave Balm

| Key ingredients
The benefit of our ingredients to you are:
acetyl dipeptide-1 cetyl ester – based on lipo-dipeptide tyr-arg – a peptide found naturally in the body; desensitizes the skin, putting it at ease; modulates the perception of temperature, chemical aggressions, and tactile sensations; decreases cutaneous micro-contractions and relaxes underlying muscles; alleviates stress and relieves skin tension that contribute to the formation of expression lines and wrinkles
algae extract – a skin care ingredient used as water-binding agents and antioxidants; contain proteins, vitamin A, sugar, starch, vitamin B1, iron, sodium, phosphorus, magnesium, copper, and calcium; helps restore skin's moisture to improve elasticity
alba bark extract (birch) – a highly purified source of betulin and lupeol, triterpenoids known for their anti-inflammatory activity and ability to support supple skin; also protects skin from UV-induced damage
calendula oficinalis extract (marigold) – has anti-viral, anti-genotoxic and anti-inflammatory properties; used to treat acne, reducing inflammation, controlling bleeding and soothing irritated tissue
tocopherol (vitamin E) – protects cells against free-radical damage; an abundant assortment of researchers have theorized that this can slow the aging process
aloe vera extract – rich in A, B, C, and E vitamins, has a refreshing, emollient, soothing, protective, anti-inflammatory and moisturizing action; tightens and rejuvenates skin while having an anti-aging effect on the skin; natural sun filter that helps filter UVB rays
silk– the most treasured natural fiber; what makes silk unique is its ability to hold and release moisture depending on the temperature and humidity of the surroundings; the main component is fibroin, an amphoteric colloid protein; silk powder is rich in silk amino acids, including alanine, glycine and serine, which are the building blocks of protein in the skin and are regarded as a part of the natural moisturizing factor; also contains anti-inflammation qualities
INGREDIENTS LIST
Ingredients | 4VOO Repairing After Shave Balm
---
Aqua, Caprylic/Capric Triglyceride, Tribehenin, Sorbitan Laurate, Nylon-12, Palmatine, Bytylene Glycol, Laureth-3, Hydroxyethylcellulose, Acetyl Dipeptide-1 Cetyl Ester, Propylene Glycol, Algae Extract, Betula Alba Bark Extract (Birch), Calendula Officinalis Extract (Marigold), Centaurea Cyanus Extract (Cornflower), Hypericum Perforatum Extract (St. John's Wort), Tilia Cordata Extract (Linden), Chamomilla Recutita Extract (Matricaria), Anthemis Noibilis Extract (Chamomile), Equisetum Hiemale Extract (Horsetail), Cymbopogon Schoenanthus Extract (Lemongrass), Prunus Serotina Bark Extract (Wild Cherry), Eugenia Caryophyllus Extract (Clove), Aloe Barbadensis (Aloe Vera), Polysorbate 20, Tocopherol (Vitamin E), Hydrolyzed Silk, Sodium Acrylate / Sodium Acryloyldimethyl Taurate Copolymer, Mineral Oil, Trideceth-6, Glyceryl Stearate, Octyldodecanol, Isopropyl Palmitate, Isopropyl Myristate, Peg-20 Glyceryl Stearate, Ceteareth-12, Cetyl Palmitate, Glyceryl Cocoate, Cetearyl Alcohol, Sorbitan Stearate, Alcohol Denat., Glycerin, PPG-3 Benzyl Ether Myristate, Ethylhexylglycerin, Phenoxyethanol, Fragrance
4VOO

| Treat yourself to the luxury you deserve