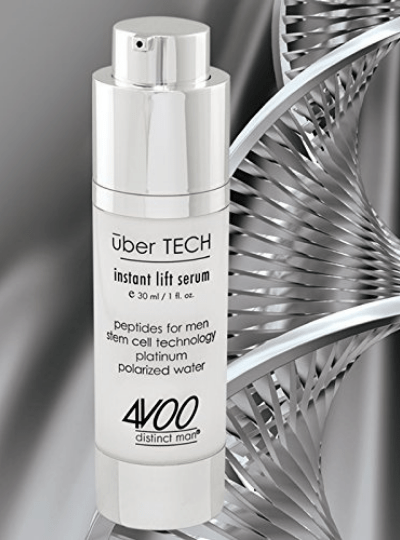 4VOO Uber TECH Instant Face Lift Serum

| Benefits
4VOO Uber TECH Instant Face Lift Serum is designed exclusively for men, the serum's proprietary blend of ingredients works with testosterone to produce immediate effects you can see and feel:
forms a protective replenishing film on the skin's surface that stretches to provide an instant tightening effectjust 5 min after the first application
increases skin's tension to produce a visible, proven micro-lifting effect for tauter, firmer skin
smoothes skin and significantly reduces visibility of wrinkles by 25% in just 5 min after first application
an immediate tightening sensation leads to significant improvements to skin's appearance and texture
skin appears more radiant and youthful, lines and wrinkles are visibly reduced, and skin feels smoother, more supple, and softer to the touch
The thinning of skin and decreasing efficiency of the skin's circulatory system causes skin to wrinkle, lose moisture, and become slack, rough, and less youthful looking as we age. Uber TECH instant face lift serum's four key ingredients, hybridized peptides, platinum, stem cell technology, polarized water contribute to its unsurpassed effectiveness.
Uber TECH instant lift serum combats the signs of aging with instant results!
4VOO Uber TECH Instant Face Lift Serum

| Application guidelines
After cleansing with 4VOO facial balancing cleanser, gently pat your face dry with a clean towel.
Dab 4VOO Uber TECH

instant face lift serum

onto your forehead, cheekbones, chin, and neck, gently smoothing it over the skin, working from the outside of the face towards the center. You may experience a tightening sensation – this is normal: the product is acting as it was formulated to.

Your skin will appear firmer, smoother, and more vibrant with fewer visible wrinkles – within just 5 minutes after the first application.
With Uber TECH instant lift serum you will experience the youthful results like those achieved by laser therapy, in a safe and convenient formula you can apply at home.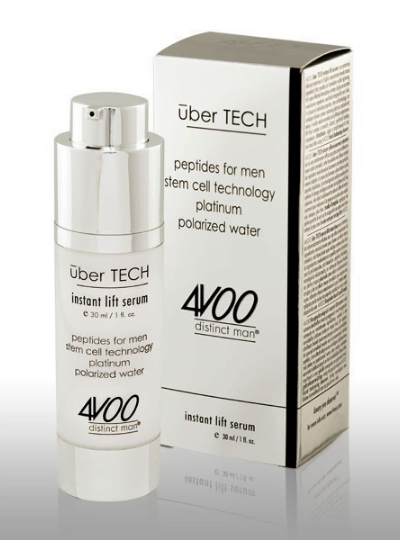 Key ingredients
A proprietary blend of ingredients gives your skin the lift that reflects your true vitality:
BOTOX®– LIKE ACTIVE PEPTIDES: increase the synthesis of collagen and prevent water loss, visibly reducing wrinkles by 38% over time
HYBRRIDIZED PEPTIDES: that work with men's hormones: reduces testosterone's effects, increases synthesis of collagen, and prevents trans-epidermal water loss; stopping both chronological aging and photo-aging in their tracks, the result is wrinkle reduction of up to 45%
INTELIGENT TARGETING DEVICE: a revolutionary dual-layer capsules with peptides deliver their anti-aging ingredients to the core of selected cells instantly, rapidly increasing skin's elasticity; this newest biotechnological skin rejuvenation fights not just fine lines but also the deepest wrinkles, reducing their visibility drastically
PLANT STEM CELL TECHNOLOGY: powerful antioxidant and anti-inflammatory, activates skin stem cells, stimulates rapid proliferation, protects skin cell DNA, and prevents UV damage; this powerful anti-aging ingredient combats photo-aging and increases skin's resistance to stress
POLARIZED WATER: allows for more effective hydration of the skin cells under eye area
PLATINUM TECHNOLOGY: 4VOO's proprietary intelligent delivery system selectively activates the peptides and boosts collagen synthesis for miraculous wrinkle reduction and increased elasticity; by modulating cellular signals, platinum technology helps your skin maintain its youthful glow and pristine condition, improving elasticity by 47%, boosting hydration by 33%, and reducing wrinkles by up to 61% over time
SILK: for added protection and moisture-retention
VITAMINS A, C, E, F assist in reducing wrinkles by 25%
PLUS: 17 natural plant extracts
4VOO

| Treat yourself to the luxury you deserve