4VOO Ultimate Shaving Cream | Truly a luxury shaving experience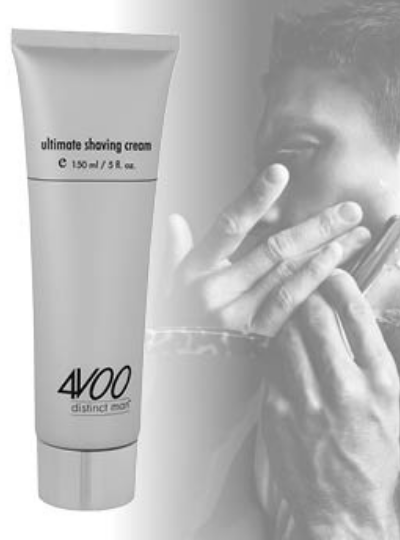 4VOO Ultimate Shaving Cream

| Benefits
This exclusive deluxe formulation provides ultimate performance while producing the comfort and gentle shaving experience today's sophisticated man requires. Your skin will feel soft and smooth with no irritation, you will feel the difference with your first shave.
4VOO ultimate shaving cream is truly the luxury shaving experience.
What does the ultimate shaving cream do?
An exclusive formulation for today's distinct man, 4VOO ultimate shaving cream delivers:
4VOO ultimate shaving cream provides perfect glide with each stroke of the razor. An exclusive blend of natural extracts, including birch bark extract and babassu oil, softens the hair to perfectly minimize the number of strokes for a premium shaving experience.
With its patented softening effect of the hair, 4V00 ultimate shaving cream ensures each shave is incredibly close and smooth right down to the skin. Stubble is virtually eliminated.
Protection against cuts, burns, and skin irritation
Our exclusive formulation of luxurious silk and soothing extracts, such as aloe vera, chamomile, and calendula guard against skin damage and promote skin healing from any potential cuts or burns.
A specialized blend of silk and babassu oil help regulate skin dryness by maintaining a delicate balance of sebum production in the skin. Your skin will look and feel replenished and hydrated, essential for the clean and healthy look every distinct man desires.
Ultimate luxury and performance
4VOO ultimate shaving cream is the premier men's shaving solution using only exclusive ingredients for ultimate results. Most shaving creams are loaded with stearic acid, a thick, waxy substance that hinders the fluent shaving process. we believe waxing should be left for cars! rich with luxurious ingredients, 4V00 ultimate shaving cream delivers a delightful shaving experience for men.
Treat yourself to ultimate shaving luxury and performance.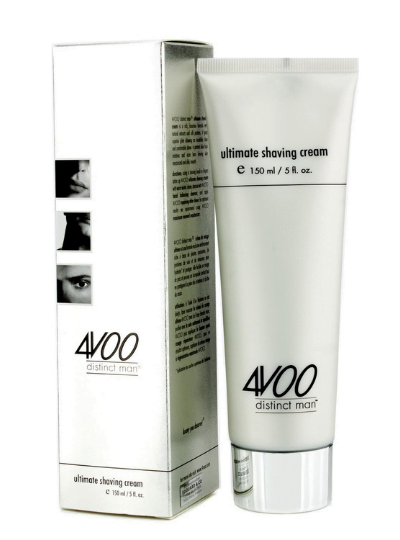 4VOO Ultimate Shaving Cream

| Application guidelines
Say goodbye to the days of a harsh, irritating shave! Instead, treat yourself to a refreshing shaving experience:
thoroughly wet face with warm water, this is important to weaken facial hair – never shave a dry or cold face, pre-shave preparation is essential to avoid irritation
use a few small dabs of 4VOO ultimate shaving cream and spread across skin – volume is not what you need for the best shave, instead, our ultimate shaving cream is formulated to moisturize your skin while softening the hair to give your razor a perfectly smooth glide
gently glide razor along face – to avoid irritation, do not press too hard, let your razor and4VOO ultimate shave cream do the work for you!
wash face thoroughly with warm water and 4VOO facial balancing cleanser and pat face dry with a clean towel
For optimum results, apply small amount of 4VOO repairing after shave balm after shaving and drying your face.
4VOO Ultimate Shaving Cream

| Key ingredients
The benefits of our ingredients to you are:
babassu oil – an excellent skin softener that gently moisturizes the skin without contributing to an oily sheen, beneficial for both dry and oily skin
aloe vera extract – rich in A, B, C, and E vitamins, has a refreshing, emollient, soothing, protective, anti-inflammatory and moisturizing action; tightens and rejuvenates skin while having an anti-aging effect on the skin; natural sun filter that helps filter UVB rays
algae extract – a skin care ingredient used as water-binding agents and antioxidants; contain proteins, vitamin A, sugar, starch, vitamin B1, iron, sodium, phosphorus, magnesium, copper, and calcium; helps restore skin's moisture to improve elasticity
alba bark extract (birch) – a highly purified source of betulin and lupeol, triterpenoids known for their anti-inflammatory activity and ability to support supple skin; also protects skin from UV-induced damage
calendula oficinalis extract (marigold) – has anti-viral, anti-genotoxic and anti-inflammatory properties; used to treat acne, reducing inflammation, controlling bleeding and soothing irritated tissue
silk– the most treasured natural fiber; what makes silk unique is its ability to hold and release moisture depending on the temperature and humidity of the surroundings; the main component of natural silk is fibroin, an amphoteric colloid protein; silk powder is rich in silk amino acids, including alanine, glycine and serine, which are the building blocks of protein in the skin and are regarded as a part of the natural moisturizing factor; silk also contains natural sun protection and anti-inflammation qualities – these effectively help sun-damaged skin, acne and other skin problems
INGREDIENTS LIST (folds out)
Ingredients | 4VOO Ultimate Shaving Cream
---
Aqua (Water), Sodium Laureth Sulfate, Sodium Acrylate/Sodium Acryloyldimethyl Taurate Copolymer, Paraffinum Liquidum, Trideceth-6, Sodium Lauryl Sulfate, Cocamide Dea, Cocamidopropyl Betaine, Propylene Glycol, PPG-3 Benzyl Ether Myristate, Orbignya Oleifera Oil (Babassu), Aloe Barbadensis (Aloe Vera), Hydrolyzed Silk, Tocopherol, Algae, Betula Alba Bark Extract (Birch), Equisetum Hiemale Extract (Horsetail), Calendula Officinalis Extract (Calendula),
Cymbopogon Schoenanthus Extract (Lemongrass), Prunus Serotina Bark Extract (Wild Cherry), Eugenia Caryophyllus Extract (Clove), Centaurea Cyanus Extract (Cornflower), Hypericum Perforatum Extract (St. John's Wort), Tilia Cordata Extract (Linden), Chamomilla Recutita Extract (Matricaria), Anthemis Nobilis Extract (Chamo- mile), Glyceryl Stearate, Octyldodecanol, Isopropyl Palmitate, Isopropyl Myristate, Peg-20 Glyceryl Stearate, Ceteareth-12, Cetyl Palmitate, Glyceryl Cocoate, Cetearyl Alcohol, Sorbitan Stearate, Ethylhexylglycerin, Phenoxyethanol, Fragrance
Silk | The most advanced, unique, and nutritive material for skin
What will silk do for your skin?
reduce the human ageing process and skin wrinkling
restore PH balance
moisturize and rehydrate your skin
give a natural sun protection factor
restrain melanin building
give antioxidant benefits
rejuvenate damaged skin tissue
soothe burnt skin
energize muscle tissue and nerve endings
leave your skin silky smooth
Silk is a protein fiber, meaning that is chemically quite similar to human skin. because of this,silk is an ideal "second skin".
What makes silk unique is its ability to hold and release moisture depending on the temperature and humidity of the surroundings. Silk is a natural moisturizer and combines with the skins epithelial cells, promoting metabolism, and holds rich moisture to give the skin, nourishment, softness and elasticity.
Silk is rich in silk amino acids, including alanine, glycine and serine, which are the building blocks of protein in the skin. Silk protein possesses UV ray inhibiting properties, therefore the cosmetics offer natural UV protection as well as control melanin build up. These effectively help sun-damaged skin, acne and other skin problems.
Silk protein also has a strong affinity for bio-organisms, and has the unusual characteristic of preventing the growth of micro-organisms and bacteria, keeping your skin hygienic. The silk protein heals the skin, thus reducing skin wrinkling.
This most treasured natural fiber leave your skin moisturized, rejuvenated, and silky smooth.
4VOO

| Treat yourself to the luxury you deserve…