4VOO Ultra Intensive Age-Defying Complex

| A revolution in Anti-Ageing
4VOO Ultra Intensive Age-Defying Complex

| Benefits

What does 4VOO ultra intensive age-defying complex do for you?
Reduce the visible signs of aging.
Look no further for the solution to younger, smoother, and more energetic skin!
4VOO ultra intensive age-defying complex is the ultimate high performance luxury anti-ageing booster for men with mature skin who want to suspend the aging process. This luxury complex is formulated to:
visibly reduce expression lines and facial wrinkles by decreasing muscle contraction
promote skin firmness with an exclusive multi-peptide formulation in the highest concentration
diminish and brighten age spots with an exclusive lightening complex
protect and replenish skin with a luxurious silk protein complex
combat dryness, fine lines, and other signs of aging
even, smooth, and give silky soft, luminous skin tone
deliver luxuriously rich, fast-absorbing and non-greasy formula
This exclusive high concentration formula delivers the performance results a man's maturing skin requires. The face instantly appears smoother, the skin is invigorated and left feeling soft and supple. With use over time, the revitalized skin looks firmer, wrinkles are visibly minimized, skin tone becomes even, and your complexion is left looking remarkably more youthful.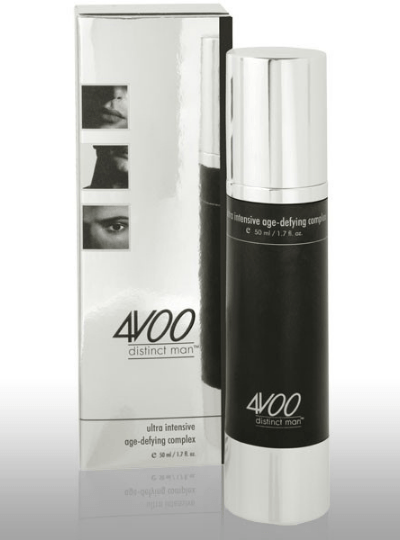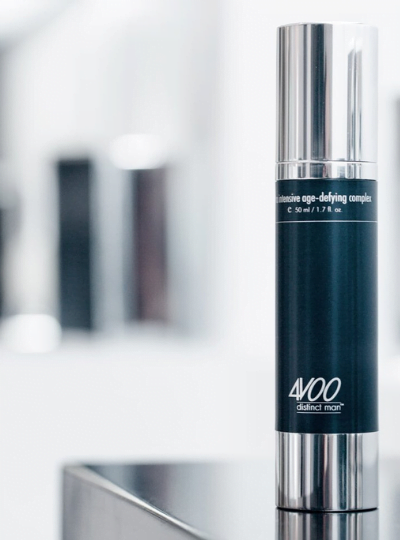 Application guidelines
4VOO ultra intensive age-defying complex will make your skin feel remarkably smoother, firmer, and softer, leaving you looking younger and livelier. The results are immediate and dramatic.
For optimum performance:
cleanse your face using 4VOO facial balancing cleanser
apply a small amount of ultra intensive age-defying complex to your forehead, cheekbones, chin, and neck, gently smoothing it over the skin, working from the outside of the face towards the center
use in combination with 4VOO rejuvenating under eye gel or on its own for incredible results
4VOO ultra intensive age-defying complex works best when applied twice daily, producing immediate short-term benefits and long-term improvements.
After using 4VOO ultra intensive age-defying complex, your skin will feel remarkably smoother, firmer, and softer and you will look younger and livelier.
INGREDIENTS LIST (folds out)
Ingredients | 4VOO Ultra Intensive Age-Defying Complex
---
pamitoyl oligopeptide, palmitoyl tetrapeptide-7, hydrolyzed silk, nasturtium officinale extract (watercress), orbignya oleifera oil (babassu), aloe barbadensis (aloe vera), algae, betula alba bark extract (birch), equisetum hiemale extract (horsetail), calendula officinalis extract (marigold), cymbopogon schoenanthus extract (lemongrass), prunus serotina bark extract (wild cherry), eugenia caryophyllus extract (clove), centaurea cyanus extract (cronflower), hypericum perforatum extract
The sciene behind 4VOO Ultra Intensive Complex
What makes the ultra intensive age-defying complex so unique?
The essence of the ultra intensive age-defying complex lies in its three-part formulation:
Short-term effects                                 
4VOO ultra intensive age-defying complex starts to remedy wrinkles and fine 4lines immediately with its exclusive formulation: a non-aggressive, non-toxic alternative to traditional Botox® to combat wrinkle expression. Our special formulation is obtained naturally from perennial european and asian plants rich in inorganic compounds which promote the relaxation of expression muscles for the anti-aging solution meticulously desired by so many.
Long-term effects
In addition to the short-term wrinkle reduction, the exclusive multi-peptide formulation also begins repairing and invigorating aged and wrinkled skin immediately by promoting collagen production for a smooth, elevated, and dynamic appearance. Cell renewal and proliferation are at the heart of this luxurious formulation's powerful ability.
Skin uniformity
The third part of our deluxe formulation is infused with natural extracts to bring back the radiance of your skin tone to its youthful form. Say goodbye to age spots and discoloration with 4VOO ultra intensive age-defying complex and introduce yourself to beautiful color and renewed uniformity to your skin.
visibly reduces wrinkles, age lines, and spots
restores smoother, softer, and tighter skin
made with exclusive luxurious ingredients
specifically designed for men
Alternative to Botox ®  with none of the side effects
Botox ®  cosmetic treatments have witnessed a surge in popularity with the endless search for younger appearance. But, with this trend, comes the accompanied risks of dangerous side effects and added cost. 4VOO ultra intensive age-defying complex removes the risks, while preserving the benefits:
Botox ®
4VOO ultra intensive age-defying complex

toxic to the body· harmful side effects
effects of injections lessen over time and require repeat treatment every few months
requires an appointment with a registered professional

non-toxic
no side effects
produces continual, progressive improvement over time with use
easily applied and used in the comfort of your own home
long-term effects· promotes skin uniformity
Enjoy beautiful, healthy, younger skin without the encumbrances and risks of Botox ® injections.
Treat yourself with 4VOO ultra intensive age-defying complex, a breakthrough in anti-aging and youth rejuvenation.
4VOO

| Treat yourself to the luxury you deserve…