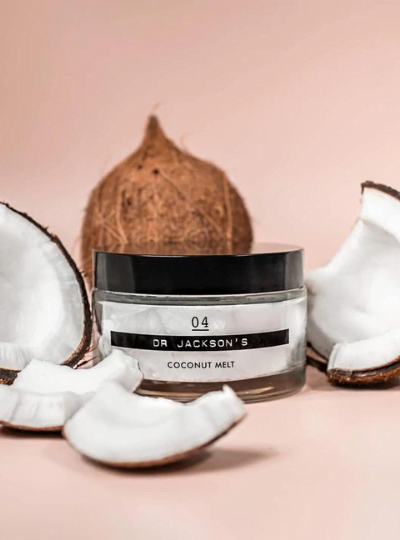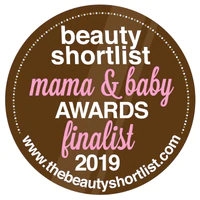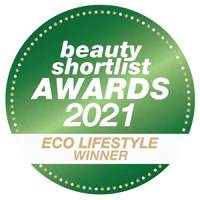 Dr. Jackson's 04 Coconut Melt |
Award Winning Multi Purpose Balm
A moisturising and softening 100% organic British pharmacopoeia grade 'everything' balm. Our nutrient-rich 04 Coconut Melt nourishes the skin, restores dry lips and conditions hair. With a lightweight texture, natural coconut oil is packed with glycerides and fatty acids, which soothe, repair and delay the development of wrinkles. It also contains antioxidant vitamin E, linoleic and lauric acid, which are great anti-pollutants for battling bacteria.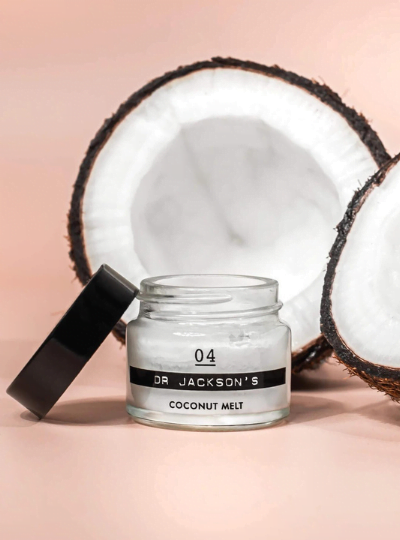 Dr. Jackson's 04 Coconut Melt |

No nasties, ever
At Dr Jackson's we are dedicated to ethical, cruelty-free skincare that makes a proven difference. Backed by more than 30 years of scientific research, our 04 Coconut Melt is an all-round face, hair and body hero product you won't want to be without.
This gentle, all-purpose balm is clean, safe and, most importantly, effective. 04 Coconut Melt is formulated with 100% organic British pharmacopoeia grade* unrefined coconut oil that offers numerous benefits.
*British Pharmacopoeia grade indicates that this ingredient has been tested and confirmed to have bioactive components valued for their health benefits.
Dr. Jackson's 04 Coconut Melt |

Powered by plants
With a multitude of uses for young and old alike, our 04 Coconut Melt is particularly beneficial to dry and sensitive skin. This unrefined and naturally fragrant balm instantly moisturises lips, nails, cuticles and hair, soothes nappy rash, nourishes the skin and offers anti-ageing properties.
Traditionally used in food, medicine and cosmetics throughout the tropics, coconut oil is prized for its nutrient value, moisturising and emollient properties, as well as for its exotic aroma. Coconut oil is an excellent natural ingredient to nourish the body, lauded for its beneficial effects on the skin.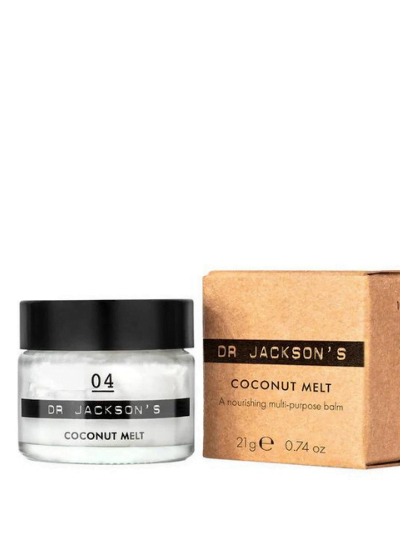 Dr. Jackson's 04 Coconut Melt |
Our precious natural ingredients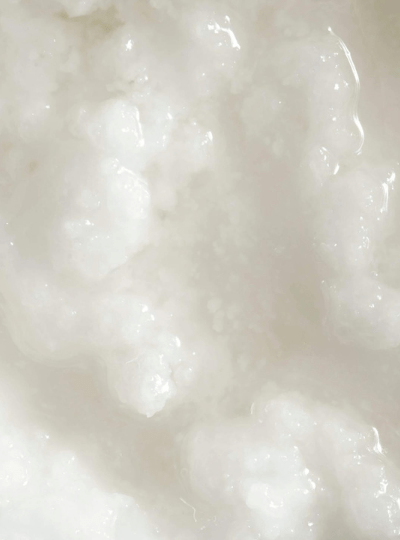 Organic Coconut Oil
known for its moisturising, emollient and elasticising properties, coconut oil also contains lauric acid, an anti-pollutant which can easily penetrate the structure of the hair stem, helping to protect against degeneration.
Coconut (Cocos Nucifera) Oil* *Organic, 100% Natural
INGREDIENTS LIST
Ingredients | Dr. Jackson's 04 Coconut Melt
---
Coconut (Cocos Nucifera) Oil* *Organic, 100% Natural.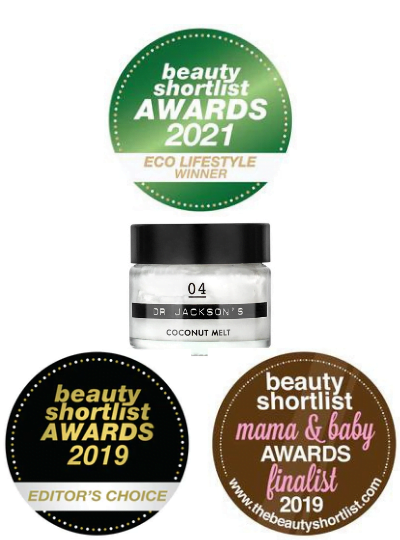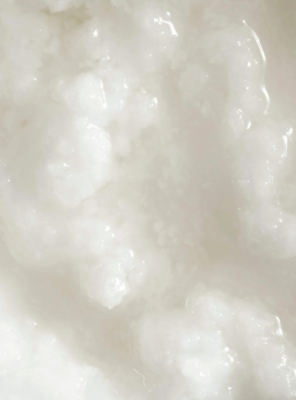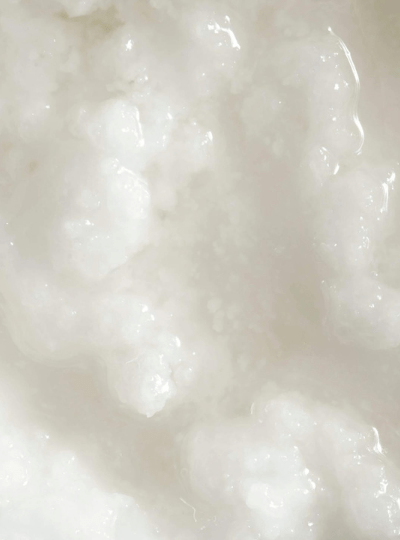 Dr. Jackson's 04 Coconut Melt | Application guidelines
Apply after cleansing, to face (for those with very dry skin) and body. Use on lips, nails, cuticles and hair as needed.Those with acne-prone skin should avoid using 04 Coconut Melt as a face moisturiser and instead apply a small amount to illuminate the cheekbones and bring a natural glow to the face.Use with a cotton pad to remove make-up before cleansing. Rub a small amount into ends of the hair, or use as an intensive hair treatment before bed, then rinse out the following morning.Can also be used on babies' tender skin to protect from nappy rash.For all genders and all skin types. For external use only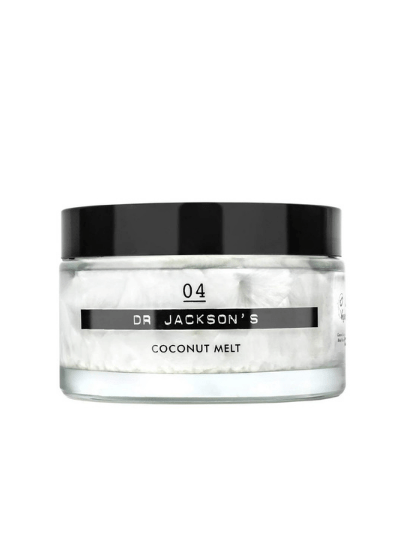 Dr. Jackson's 04 Coconut Melt | Product Details
NO Parabens, NO PEGS, NO Sulphates, NO Carcinogens, NO Synthetic Fragrances, NO Synthetic Colours, NO Toxins, NO GMOs, NO Petroleum, NO Phthalates, NO Silicones, NO Ethoxylated Ingredients, NO Oxybenzone, NO Octinoxate, NO Mineral Oil, NO Pesticides
Suitable for all skin types, including sensitive
Gentle on babies' tender skin
Contains vitamin E, glycerides and fatty acids
Presented in a glass jar – please recycle or re-use me
Our 15ml travel size is perfect for use on the go
Packed in sustainably sourced and FSC-certified cardboard printed with soy ink and sealed with a biodegradable and compostable tamper seal

Leaping Bunny Certified, so naturally not tested on animals across the whole supply chain
Vegan Certified

As coconut oil naturally liquefies and solidifies in response to changes in temperature, we recommend storing in a cool, dry place and refrigerating at temperatures above 23°C (74°F)

For external use only
About Dr. Jackson's
DR. JACKSON'S | OUR ROOTS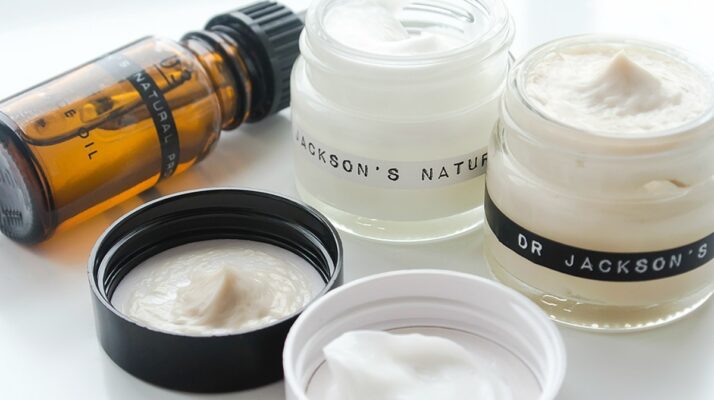 PLANT-POWERED, SCIENCE-LED SKINCARE AND WELLNESS
Dr Jackson's is a sustainable, science-led cosmetics company. They create natural skincare products and organic herbal teas and believe in beauty that is clean, safe and, most importantly, effective. Their vegan and cruelty-free products combine meticulous research with the finest ingredients nature has to offer. Dr. Jackson's products are developed for all genders and all skin types.
A JOURNEY TO PROTECT YOUR SKIN AND THE PLANET
We officially launched our award-winning range in 2012 by way of Sub-Saharan Africa and London's Shoreditch. But our story started way back. The medicinal plant knowledge that we draw on can be traced back centuries.
Fascinated by the power of nature from a young age, our founder, pharmacognosist, Dr S. J. Jackson embarked on a successful career as a scientist and spent over two decades studying indigenous plants and their uses in traditional medicines.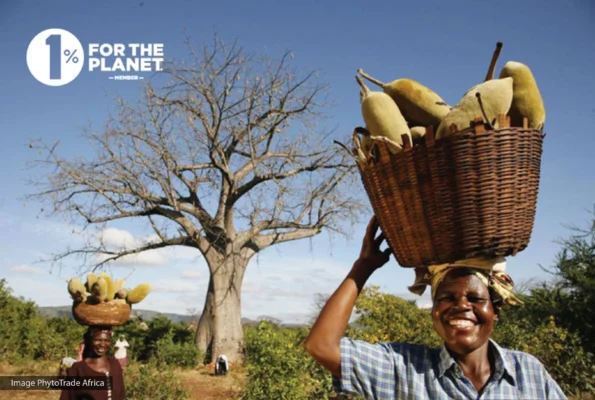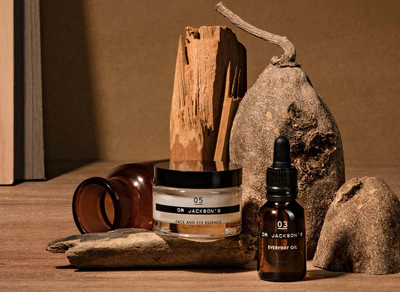 Dr. Jackson's 
OUR PRODUCTS: LED BY SCIENCE, INSPIRED BY NATURE
Drawing on a combined 30+ years of leading scientific research between our founder, Dr Jackson and our team of scientists, we formulate products that care for your skin in the most natural and effective way possible, backed by extensive clinical trials.
Dr Jackson was a specialist in melanoma during his time at the Department of Dermatology at King's College, where he researched natural ingredients that had special healing properties for the skin.Our products are based on the principles of pharmacognosy: the study of natural medicines derived from plants and their traditional uses.
All of our ingredients are rigorously tested in the lab to ensure the utmost purity, as well as being ethically sourced. Particularly suited to problem or sensitive skin, our formulations are free from any synthetics or nasties that wouldn't be kind to your skin.
Dr. Jackson's 
OUR VISION: GREENER BEAUTY, A GREENER FUTURE
As a young brand looking forward to a more sustainable future, it is our goal to continue creating the best formulations, drawing on cutting-edge ethnobotanical research from scientists around the world.
Working closely with our global network of green-credential suppliers in all areas of the production chain, we have established an ecologically-minded company that promotes the principles of pharmacognosy in the cosmeceutical industry.
It is our mission to continue developing an innovative, ethical and sustainable company, working with like-minded people who strive to make a positive impact on our planet and inspire future generations.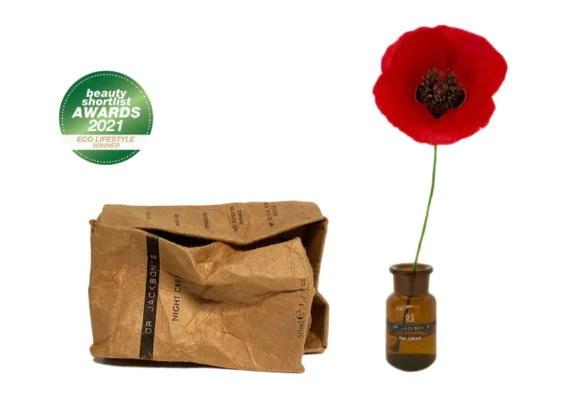 Dr. Jackson's |
Ethos
• Kind formulations for your skin and our planet
• Environmentally and socially responsible – Proudly supporting 1% for the Planet
• Compostable packaging: no plastic wrappers, no foil printing, no polyester ribbons
• No animal testing – No GMOs
• Ethically and sustainably sourced natural ingredients
• Eco Brand of the Year at The Beauty Shortlist Awards 2021
• Best Zero Waste Brand and Best Plastic-Free Brand at The Beauty Shortlist Awards 2020
You may also enjoy: