The MEN3 after shave is a gentle balm
The MEN³ after shave is a gentle balm, alcohol-free and without parabens or mineral oils, also suitable for men with extremely sensitive or irritated skin as well as eczema, scaling, dermatitis and psoriasis.
Do you have a beard?
Use it as a beard conditioner to keep your beard shiny, supple and healthy.
An after shave developed for sensitive skin
The MEN3 after shave is the ultimate finishing touch to your MEN³ shaving ritual and not only moisturises and soothes your skin but also provides a subtle fragrance that is not overpowering but appealingly masculine. MEN3 after shave is a gentle balm, alcohol-free and without parabens or mineral oils. This makes the after shave also suitable for men with extremely sensitive or irritated skin as well as for men with eczema, scaling, dermatitis and psoriasis.
MEN³'s 1-2-3 shaving range was developed for the conscious man who wants to look well-groomed
, keep his beard healthy and is looking for quality with that little extra something.
Tip:
Did you know that wearing mouth masks can trigger or aggravate eczema? Prevent problems by treating your beard area with this balm every day (even if you haven't shaved).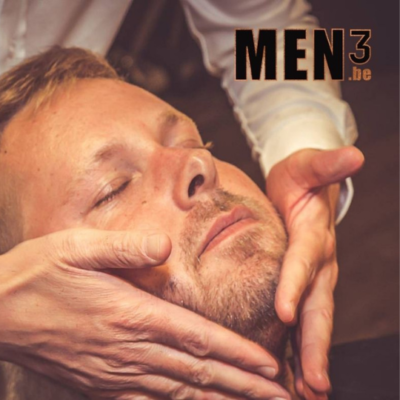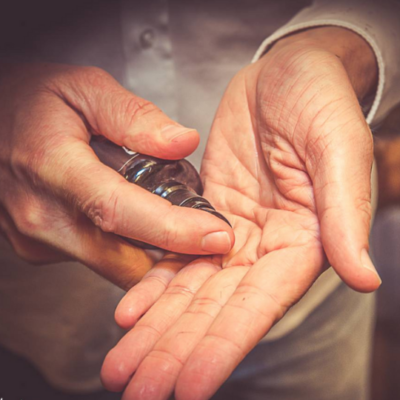 How to apply the MEN3 after shave
After shaving, apply MEN3 after shave in a thin layer to the beard area or scalp:
After shaving and rinsing, pat the skin dry with lukewarm water
Take a small amount (2-3 pumps) of the MEN3 after shave and apply to the skin
The balm is quickly absorbed into the skin, is non-greasy and smells attractively masculine.
What makes the MEN3 after shave so special?
Many after shaves contain a lot of alcohol, but this is often too aggressive, it dries out the skin and can cause unpleasant skin irritations.
MEN3 after shave is:
alcohol-free and
contains no parabens.
Furthermore, MEN3 after shave is based on Babassu, Cister and Jojoba oils which all have healing and moisturising properties. These non-greasy oils penetrate the skin quickly and provide natural suppleness and an extremely pleasant and fresh feeling.
This after shave contains a bombardment of other active ingredients (scroll down for the scientific breakdown). Some essential oils or extracts have a soothing effect, others are moisturising or keep the skin supple. The end result is a unique hypoallergenic after shave balm that any man can use, even those with super-sensitive skin such as (seborrheic) eczema, itching, dry flakes in the area of the beard and scalp.
With daily use these

inconveniences usually disappear completely after 6 to 12 weeks

. MEN3 after shave does not cause an uproar on psoriasis skin and even has an itch-reducing effect.
The healing effect of MEN3 after shave is mainly due to the beneficial properties of the essential oils and natural extracts. Mainly lavender, chamomile, grape seed, lemon zest, rosemary, cypress, grapefruit, cistercus, beeswax, sunflower seed, wild mint and willow bark. Exoteric natural extracts are Chinese magnolia, Chinese tea leaves, algae, jojoba and Macadamia Ternifolia (Australian nut variety).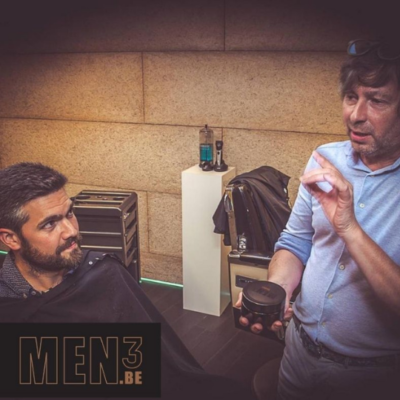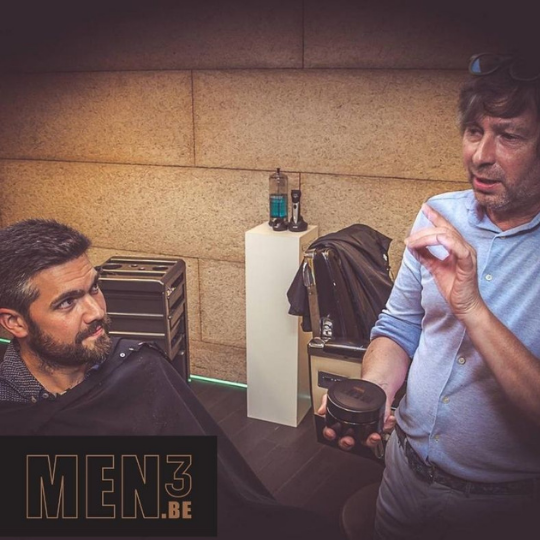 WANT TO KNOW MORE ABOUT THE MOST SKIN BENEFICIAL INGREDIENTS?
MEN3 after shave scientifically dissected
A grasp of some of the 38 caring, purifying, healing, moisturising, toning and smoothing ingredients:
Babassus oil

: This non-greasy oil has healing properties for easily irritated, dry and damaged eczema skin. It has antioxidant and moisturising properties and softens the beard hairs.
 

Ladaniferus Oil

: Cistercian essential oil. Improves skin condition, smoothes skin due to its astringent properties.

Shea Butter

: Soothing properties for psoriasis and eczema skin and is non-comedogenic!

Camellia Sinensis Leaf Extract

: Extract from Chinese tea leaves, used mainly for its antibacterial properties. The polyphenols present in green tea protect the skin from sunlight-induced ageing, sunburn and UV-induced immune loss.

Chamomilla Recutita Extract

: Extract from camomile flower. The essential oils of this species of chamomile flower – including azulene – have antiviral, antibacterial, anti-inflammatory, detoxifying, wound-healing and ulcer-inhibiting effects. Various ingredients are responsible for these properties. For example, azulene has anti-allergic and anti-viral properties; matricin; flavonoids, choline and alpha-bisabolol have anti-inflammatory properties.

Chondrus Crispus

: Irish Moss or red algae. The active substances in the red alga are mainly carrageenan, carragenane, iodine and sulphur.

Citrus Grandis Fruit Extract

: Grapefruit extract is an emollient oil with antioxidant properties. Grapefruit extract has the ability to both cleanse and moisturise the skin. The amino acids, carbohydrates and fruit acids are responsible for moisturising and cleansing the skin, while the flavanoid will improve the strength of the capillaries (small blood vessels). So it works well for rosacea.

Citrus Medica Limonum (Lemon) Peel Oil

: Lemon zest essential oil. Has a toning and purifying effect on the skin. Also ideal for treating oily skin.

Cupressus Sempervirens Oil

: Cypress essential oil. Contains a high dose of vitamin E which is not only the anti-ageing vitamin par excellence but also helps prevent blackheads and clogged pores. Vitamin E from Cypress defends the cells (skin) against oxidation by free radicals (UV radiation from the sun) and therefore slows down the ageing process of the skin. In short, the Vitamin E present will strongly reduce erythema (redness), swelling and wrinkling.

Helianthus Annuus Extract

: This extract from the sunflower seed. Has a healing effect and stimulates cell renewal.

Lavandula Hybrida Oil

: Lavender essential oil with healing properties for eczema and burns.

Propolis Extract

: Extract from beeswax: Serves as a disinfectant for the beehive. It has antibacterial, antimycotic and antioxidant properties, contains valuable wax, resin, amino acids, trace elements, enzymes, vitamins and pro-vitamins. It promotes healing and blood circulation and makes warts disappear.

Rosmarinus Officinalis Extract

: Extract from rosemary. Healing effect on acne, eczema and dermatitis.

Salix Alba Bark Extract

: Extract of willow bark has an anti-inflammatory and soothing effect.

Jojoba oil

has moisturising, softening and protective properties. Healing effect on scars. It protects the skin against moisture loss without leaving an oily feeling. Jojoba oil is particularly skin-friendly, is quickly absorbed and lends itself as a care product for all skin types; particularly for dry skin.

Sodium Hyaluronate

: This serum acts in the dermis to boost the moisture balance and elasticity of the skin, making the skin look visibly smoother.