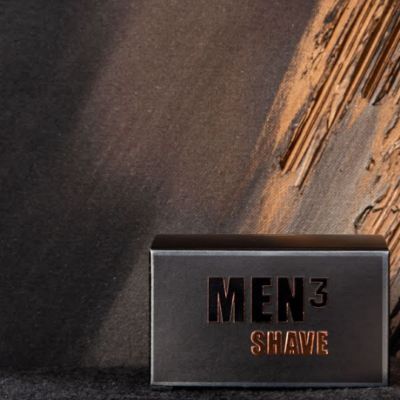 MEN3 Shaving Cream
MEN3 shaving cream was developed primarily for men with problems in the beard area such as eczema, dry scales, itching, redness, dermatitis and has even a beneficial effect on psoriasis.
The perfect shaving foam
The MEN3 shaving cream is unique in all aspects of the shaving soap segment and is used by both the professional barber and the individual who is looking for the ultimate shaving experience with long-lasting smoothness. This shaving cream was developed primarily for men with problems in the beard area such as eczema, dry flakes, itching, redness, dermatitis and even a beneficial effect on psoriasis. This shaving foam is therefore also suitable for all sensitive skin types. The fragrance is hypoallergenic and distinctly masculine with notes of sandalwood, leather and amber.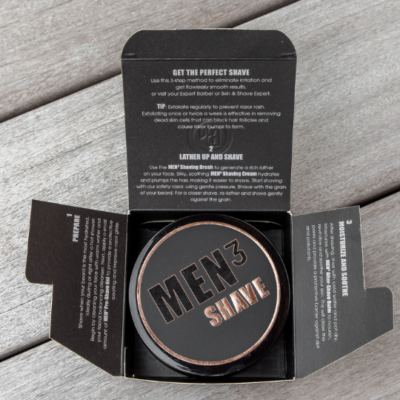 How to make the perfect shaving lather?
MEN3 shaving cream is applied to the beard area or scalp:
The most hygienic way is to scoop a small amount of shaving cream into the shaving bowl
Dip your brush in warm water and whip up into a light shaving foam
Add extra water if necessary
The foam layer should be very thick in the beard area
Shave lightly from the wrist and never apply pressure to your safety razor or open blade.
Rinse abundantly with lukewarm water and pat dry
Take care of the skin with the MEN³ after shave
Depending on the sharpness of your blade and your shaving technique, you will get a super smooth skin.
If you previously have worked with a multiple blade razor, it takes some getting used to, but the savings in costs and your new manly ritual make it well worth the effort in getting the hang of it.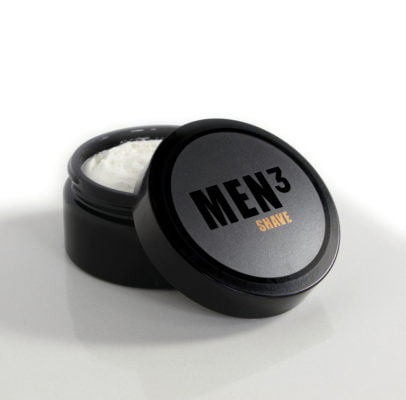 What makes the MEN3 shaving cream so special?
Without a doubt, the composition and extremely smooth shaving result without redness, irritation or cuts. This professional shaving soap was developed primarily for men who suffer from dry flakes, itching, eczema, extreme redness, dermatitis or psoriasis, but is therefore also suitable for any man – with or without sensitive skin – who is looking for Belgian superior quality.
The pure, concentrated and 100% natural ingredients of MEN³, such as babassus and shea butter, moisturise and soften the skin and hair, allowing you to shave much closer to the skin. The MEN³ shaving cream also contains no parabens, no mineral oils, no conservatives, no Sodium Lauryl Sulfate and is a professional shaving soap suitable for all skin types. The subtly attractive MEN³ fragrance is also 99.9% hypoallergenic and comes from the most renowned perfume lab in the world.
WANT TO KNOW MORE ABOUT THE MOST SKIN BENEFICIAL INGREDIENTS?
MEN³ shaving cream scientifically dissected
A grasp of some of the 24 most caring and healing ingredients for men's skin:
Babassus oil

: This non-greasy oil contains healing properties for easily irritated, dry and damaged eczema skin. It has antioxidant and moisturising properties and softens the beard hairs.

Shea butter

: Contains soothing properties for psoriasis and eczema skin. Non-comedogenic!

Soybean oil

: Has an antioxidant effect and contains mainly vitamin E. Has skin-straightening and moisturising properties.

Phenoxyethanol

: Colourless oil, preservative. Phenoxyethanol has a broad antimicrobial effect on bacteria, yeasts and moulds and also keeps the product stable. It is a worthy alternative to harmful parabens.

Tocopherol

: This is the superstar of antioxidants. Vitamin E is a fat-soluble vitamin. It will defend the cells (skin) against the oxidation by free radicals (UV radiation from the sun) and will therefore slow down the ageing process, prevent erythema (redness), swelling and wrinkling.

Ascorbic acid

: A water-soluble vitamin C with antioxidant properties. It counteracts cell-damaging free radicals and is highly beneficial to the formation of collagen. It can regenerate UV-damaged skin and thicken the epidermis. Studies show a slight reduction in wrinkles and improved skin elasticity.