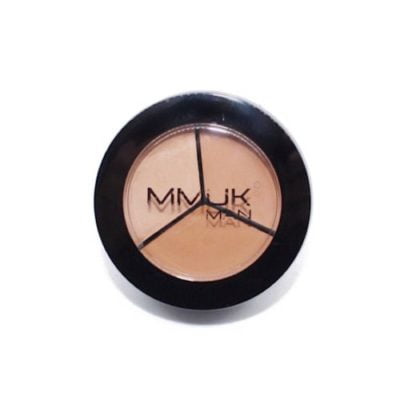 What Is the MMUK Concealer Trio:  For year-round coverage, MMUK MAN have introduced their Concealer Trio to redefine your grooming routine. This ingenious pot contains 3 shades that complement one another. You are provided with 5 choices to achieve that perfect sun kissed tan, no matter the timing of the year. Lightweight against the skin, but thick with its camouflaging properties and a lot goes a long way. This concealer will provide you with full undetectable coverage that is quite untraceable to the eye. The 5 versions include:
Cool,
Warm Front,
Sun Soaked,
Instant Neutrals &
Serious Color
Formulation:  Powder
Skin Type:  Dry

Coverage:  Targeted Areas
What Else You Should Know:  Imperfections such as, blackheads, pimples, redness to the skin, damaged skin pigments, wrinkles and fine lines can all be temporarily erased. volition to provide you with total coverage with the utmost of ease. The pot comes in a travel friendly black case, so you'll find it sits appropriately inside your bathroom cabinet. Again, a suitable item to take with you on your travels too. You'll find a total of 5 different applicators to choose from, each with 3 concealer shades. We developed this item to provide the best visual outcome for your skin, through the different times of the year.
So, should the temperature drop, and you require a specific tan to match the cooler colors that winter brings, you have the option to achieve this result. It works the same for hotter months with a warmer palette to give you a refreshed and radiating complexion. The coverage is consistent, masculine and natural. You'll find MMUK MAN have created a solution that sits appropriately on the face and is thorough.
TUTORIAL
To apply, just swipe your finger across the formula. Or for better precision and accuracy, use a blending brush or makeup application sponge. You'' find this the better option to not transfer oil from your finger onto the area applied. Your skins tone and texture will be more even and accurate. The luxury formula should be lightly pressed into the skin, to avoid smearing it and making it look streaky. Less is more, so apply lightly to begin and build upon should you require.