Experience a magnetic attraction and revel in luxury…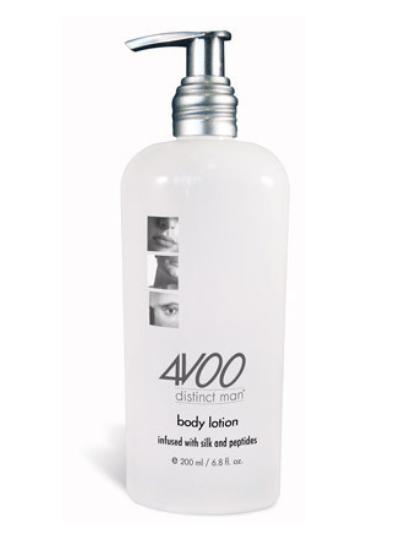 4VOO Men's Body Lotion | Benefits
4VOO Body Lotion: For skin that's irresistibly touchable and seductively smooth.
Bask in the all-over glow of healthy, supple skin that's seductively smooth with 4VOO's body lotion for men.
4V00 men's body lotion infused with silk and peptides is a luxurious multi-tasker that gently and effectively makes your skin:
smoother and more supple
healthier, more vibrant, and touchable
rejuvenated and renewed
hydrated, moisturized, and nourished
Formulated using advanced science and dermatology, our proprietary blend of ingredients has created a luxurious product that nourishes, moisturizes, and smoothes for sensual, all-over results.
Ideal for use after a shower or workout.
silky to the touch – non-greasy – extremely fast absorbing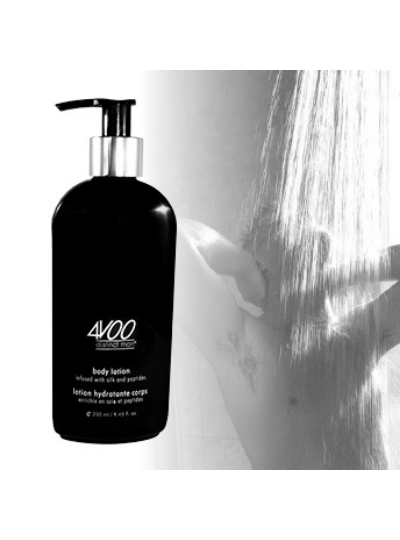 Application guidelines
Apply liberally all over the body after showering using 4VOO Body Wash and towel-drying, paying close attention to dry, rough patches such as elbows, knees, and feet.
4VOO's body lotion is an essential component to making the skin look younger and feel phenomenally soft to the touch.
Key ingredients
4VOO's body lotion infused with silk and peptides is formulated with natural ingredients of the highest quality and effectiveness, a proprietary blend that includes:
silk – the most treasured natural fiber; what makes silk unique is its ability to hold and release moisture depending on the temperature and humidity of the surroundings; the main component is fibroin, an amphoteric  colloid protein;  silk is rich in silk amino acids, including   alanine, glycine and serine, which are the building blocks of protein in the skin and are regarded as a part of the natural moisturizing factor;   also contains anti-inflammation qualities
innovative multi-peptides – anti-aging peptides that rejuvenate damaged skin cells and nourish the skin
secale cereale – natural extract purified from the rye seed – has been proven to improve skin texture
viola tricolor – an active ingredient derived from wild pansies – stimulates irrigation, and improves skin's capacity for moisture retention
INGREDIENTS LIST (folds out)
Ingredients | 4VOO Body Lotion
---
Palmitoyl Oligopeptide, Palmitoyl Tetrapeptide-7, Hydrolyzed Silk, Saccharomyces / Xylinum Black Tea Frement, Hydroxyethylcellulose, Orchis Mascula (Early Purple Orchid) Extract, Alchemilla Vulgaris (Lady's Mantle)Extract, Zizyphus Jujuba (Jujube) Fruit Extract, Thymus Serpillum (Wild Thyme) Extract, Lecithin, Tilia Cordata (Small-leaved Lime) Wood Extract, Cupressus Sempervirens (Mediterranean Cypress) Seed Extract, Aesculus Hippocastanum (Horse Chestnut) Seed Extract, Tocopherol (Vitamin E), Viola Tricolor (Wild Pansy) Extract, Algae Extract, Vitis Vinifera (Grape Vine) Seed Oil, Secale Cereale (Rye) Seed Extract, Aloe Barbadensis (Aloe Vera), Glycerin
4VOO | Treat yourself to the luxury you deserve…