Makes cleansing a vibrant and refreshing experience
4VOO Facial Balancing Cleanser | Benefits
Dirt and airborne contaminates are attracted to our faces by the natural oils secreted from our skin. these contaminates are responsible for clogged pores that cause irritation and blemishes. It's vital that we cleanse our faces daily to remove this oil and dirt and give our skin the opportunity to regenerate. Cleansing the skin prior to applying a moisturizer or treatment also allows active ingredients in 4VOO distinct man products to be absorbed and provide maximum benefit. Cleansing is the cornerstone of a healthy complexion, and must be a fundamental step in your skin care regime.
All cleansers contain a surfactant that allows water and oil to combine so that dirt may be washed away. Most inexpensive cleansers are harsh, leaving your face dry, unprotected, and irritated. If you have ever felt a pulling sensation after washing your face, this is the reason why.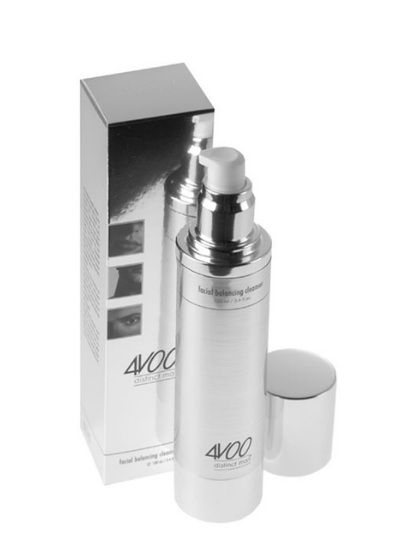 4VOO facial balancing cleanser is formulated to effectively remove oil and dirt while soothing, toning, moisturizing, and protecting at the same time. Our product may be more expensive, but your skin will feel the benefits:
cleaner
softer
and more supple than ever before
and because of its highly concentrated formula, you will only require a small amount to thoroughly cleanse and protect your face. One container of 4VOO facial balancing cleanser will last up to four months of daily use.
4VOO facial balancing cleanser is a superior luxury product with a broad range of quality active ingredients.
You will see and feel the difference the first time you use it.
Cleansing
Thoroughly cleansing your face each morning upon waking and each evening before retiring is essential to proper skin care. Cleansing removes environmental contaminates, sebum (oil excrete by your skin), and dead skin cells that can clog pores and cause blemishes. Clean skin will also better absorb the active ingredients in 4VOO distinct man products to help rejuvenate and protect your skin. We recommend that you shave, and then cleanse to ensure all shaving cream or gel residue is thoroughly removed.
wash your hands to remove any dirt or oil, and wet your face with tepid water, not hot
using a small amount of facial balancing cleanser, create lather in your hands and gently massage it onto your face

for delicate or dry skin use just your hands
for oily skin we recommend that you use a clean face cloth

the secret is to start from the outside of the face and work toward the center in single gentle strokes – most men tend to be too aggressive with their skin – let 4VOO facial balancing cleanser do the work for you
rinse thoroughly with tepid water
to dry your face, pat it gently with a clean towel – rubbing the towel over your skin is unnecessarily aggressive, it will only irritate your skin and possibly damage delicate tissue
4VOO Skincare tip
If your skin is dry and dehydrated, hold an open face cloth in both hands and wet it thoroughly with tepid water. Apply it to your face and hold it there for 10 seconds. Repeat this three or four times. Do this after cleansing, and before moisturizing to hydrate your skin and visibly reduce fine lines. Always use clean face cloths and towels.
Cleansing is an experience! Enjoy the revitalizing scent and admire your clean, vibrant, and healthy skin.
Your benefits of our ingredients are:
algae extract – a skin care ingredient used as water-binding agent and antioxidant; contains protiens, vitamin A, sugar, starch, vitamin B1, iron, sodium, phosphorus, magnesium, copper, and calcium; helps restore skin's moisture to improve elasticity
alba bark extract (birch) – a highly purified source of betulin and lupeol, triterpenoids known for their anti-inflammatory activity and ability to support supple skin; also protects from UV-induced damage
chamomile extract – soothing and calming, gentle oil excellent for protecting dry skin
aloe vera extract – rich in A, B, C, and E vitamins, has a refreshing, emollient, soothing, protective, anti-inflammatory and moisturizing action; tightens and rejuvenates skin while having an anti-aging effect on the skin; natural sun filter that helps filter UVB rays
tocopherol (vitamin E) – protects cells against free-radical damage, and an abundant assortment of researchers have theorized that this can slow the aging process
silk

 – the most treasured natural fiber; what makes silk unique is its ability to hold and release moisture depending on the temperature and humidity of the surroundings; the main component is fibroin, an amphoteric colloid protein; silk powder is rich in silk amino acids, including alanine, glycine and serine, which are the building blocks of protein in the skin and are regarded as a part of the natural moisturizing factor; also contains anti-inflammation qualities
INGREDIENTS LIST
Ingredients | 4VOO Facial Balancing Cleanser
---
Aqua, Sodium Laureth Sulfate, Propylene Glycol, Algae Extract, Betula Alba Bark Extract (Birch), Calendula Officinalis Extract (Marigold), Centaurea Cyanus Extract (Cornflower), Hypericum Perforatum Extract (St. John's Wort), Tilia Cordata Extract (Linden), Chamomilla Recutita Extract (Matricaria), Anthemis Nobilis Extract (Chamomile), Equisetum Hiemale Extract (Horsetail),
Cymbopogon Schoenanthus Extract (Lemongrass), Prunus Serotina Bark Extract (Wild Cherry), Eugenia Caryophyllus Extract (Clove), Aloe Barbadensis (Aloe Vera), Polysorbate 20, Tocopherol, Hydrolyzed Silk, Di-PPG-2 Myreth-10 Adipate, PEG-150 Pentaerythrityl Tetrastearate, PEG-6 Caprylic/Capric Glycerides, Benzyl Alcohol, Methylcholroisothiazolinone, Methylisothiazolinone, Fragrance
Silk | The most advanced, unique, and nutritive material for skin
What will silk do for your skin?
reduce the human ageing process and skin wrinkling
restore PH balance
moisturize and rehydrate your skin
give a natural sun protection factor
restrain melanin building
give antioxidant benefits
rejuvenate damaged skin tissue
soothe burnt skin
energize muscle tissue and nerve endings
leave your skin silky smooth
Silk is a protein fiber, meaning that is chemically quite similar to human skin. because of this,silk is an ideal "second skin".
What makes silk unique is its ability to hold and release moisture depending on the temperature and humidity of the surroundings. Silk is a natural moisturiser and combines with the skins epithelial cells, promoting metabolism, and holds rich moisture to give the skin, nourishment, softness and elasticity.
Silk is rich in silk amino acids, including alanine, glycine and serine, which are the building blocks of protein in the skin. Silk protein possesses UV ray inhibiting properties, therefore the cosmetics offer natural UV protection as well as control melanin build up. these effectively help sun-damaged skin, acne and other skin problems.
Silk protein also has a strong affinity for bio-organisms, and has the unusual characteristic of preventing the growth of micro-organisms and bacteria, keeping your skin hygienic. the silk protein heals the skin, thus reducing skin wrinkling.
This most treasured natural fiber will leave your skin moisturized, rejuvenated, and silky smooth.
Treat yourself to the luxury you deserve