Uber TECH | A revolution in men's anti-ageing skincare
4VOO Uber TECH Super-Restoring Night Cream Formula

| Benefits
4VOO Uber TECH Super-Restoring Night Cream Formula is Inspired by high-performance automobiles that strike a balance between science and sensuality. This Night Cream Formula was designed to not only be the most effective product on the market, but also the most luxurious: like a turbo-charged Porsche with seductively supple leather interior.
The market is flooded with hundreds of anti-aging products for women. Finally, there is one product developed exclusively for men –  uber TECH super-restoring night formula works with your hormones and biology to:
dramatically increase the synthesis of collagen and IIby 280% for firmer, more youthful skin
visibly reduce wrinkles by up to 61%
stimulate rapid proliferation of skin cells, increasing production by 45% in just 4 days—for skin that appears full of vitality
increase skin cell DNA protection by 50%
improve skin's resistance to stress by 142% and protect from UV damage
boost elasticity by 41% for younger looking skin
prevent water loss caused by hormones: increasing hydration by 37% in just 30 minutes, for skin that looks and feels fresh and supple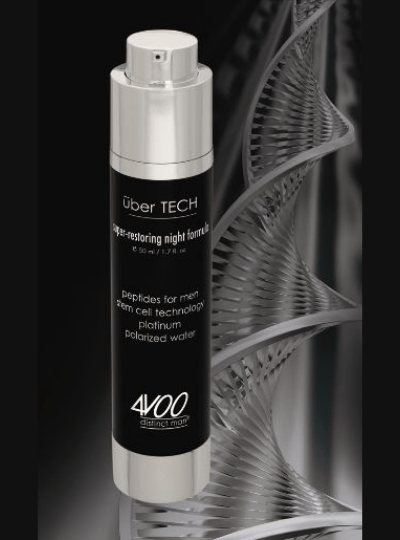 The
4VOO Uber TECH Super-Restorative Night Cream Formula

has the following main and active ingredients:
Hybridized peptides
Platinum
Stem cell technology
Polarized water
INTELIGENT TARGETING DEVICE: a revolutionary dual-layer capsules with peptides deliver their anti-aging ingredients to the core of selected cells instantly, rapidly increasing skin's elasticity; this newest biotechnological skin rejuvenation fights not just fine lines but also the deepest wrinkles, reducing their visibility drastically
NATURAL PLANT EXTRACTS: decrease wrinkle surface on the first application by up to 74%; they also diminish significantly dark circles and under eye bags by improving better microcirculation in the eye area
HYBRRIDIZED PEPTIDES that work with men's hormones: reduces testosterone's effects, increases synthesis of collagen, and prevents trans-epidermal water loss; stopping both chronological aging and photo-aging in their tracks, the result is wrinkle reduction
POLARIZED WATER: allows for more effective hydration of the skin cells under eye area
PLANT STEM CELL TECHNOLOGY: powerful antioxidant and anti-inflammatory, activates skin stem cells, stimulates rapid proliferation, protects skin cell DNA, and prevents UV damage; this powerful anti-aging ingredient combats photo-aging and increases skin's resistance to stress
PLATINUM TECHNOLOGY: 4VOO's proprietary intelligent delivery system selectively activates the peptides and boosts collagen synthesis for miraculous wrinkle reduction and increased elasticity; by modulating cellular signals, platinum technology helps your skin maintain its youthful glow and pristine condition
SILK: for added protection and moisture-retention
vitamins A, C, E, F assist in reducing wrinkles… fast
PLUS: 15 Natural Plant Extracts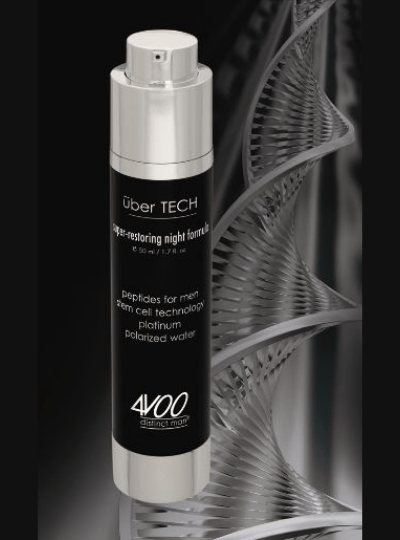 Uber TECH Super-Restoring Night Cream Formula

| Application guidelines
Apply uber TECH super-restoring night cream formula to face and neck before retiring each evening after using 4VOO facial balancing cleanser and balancing skin toner.

Dab uberTECH

super-restoring night cream formula

 onto your forehead, cheekbones, chin, and neck, gently smoothing it over the skin, working from the outside of the face towards the center.

Uber TECH

super-restoring night cream formula

 is based on high concentration of hybridized peptide and platinum particles. for this reason it works perfectly overnight while you asleep and your testosterone level increases by the morning.
You'll wake up with more youthful, vivacious skin. Your personal appearance directly affects your professional success!
4VOO | Treat yourself to the luxury you deserve…