"

Essential

" Skincare Starter Kit For Men
The XY MADE Essential skincare set is expertly formulated to give you the perfect balance of hydration, cleansing and renewal. Each of our products has a 50ml content and will last at least two months with daily use.
What's in the Essential Skincare set?
FACE CLEANSER REDCLAY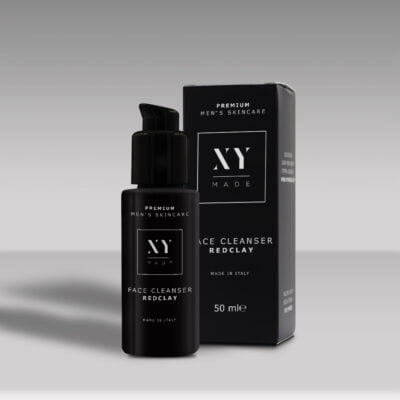 Regular soap can dry out your skin, upset its pH balance and cause serious damage. Our Face Cleanser Redclay, made with Brazilian clay, effectively removes the oils and daily dirt that usually accumulate on your skin.
Key Ingredients:                                                                          
HydroPom. Moisturizes and protects against UV rays

                                                    

Vitamin B (Panthenol)

. Protects and stimulates wound healing

Red Beraclay.

Removes impurities and controls sebum secretion
Punica granatum extract. Stimulates collagen production
SCRUB CREAM
Our scrub has a moisturizing and softening effect due to the added white clay powder. It effectively removes dead skin cells and improves the regeneration of your skin. Not only does it keep your skin young and fresh, but it also prevents irritation of your skin and reduces the appearance of scars. Get rid of that dull look!
Key Ingredients:                                                                           
HydroPom. Moisturizes and protects against UV rays
White clay kaolin. Reduces oiliness, cleanses pores and removes dirt

Prunus amygdalus dulcis oil (sweet almond).

Soothes and nourishes the skin
An abundance of sunshine or a nice hot shower after exercising; of course we all do that from time to time. However, it can do more damage to the skin than we think: it actually dries out your skin tremendously.
Our moisturizing balm is specially designed to optimally hydrate the skin. We use nourishing ingredients, such as aloe vera and almond oil for a calming and soothing effect, and tomato extract for skin hydration.
Key Ingredients: 
HydroPom.

Moisturizes and protects against UV rays

Prunus amygdalus dulcis oil (sweet almond).

Soothes and nourishes the skin

Aloe barbadensis leaf juice.

Reduces skin disorders

Allantoin.

Soothes and moisturizes the skin